DRAGONFLY Trimarans User Forum International Dragonfly Trimarans User Forum
Tiller-Motor Linkage for DF920
How to make it: This is a simple to make linkage using a aluminum tube and two plastic stick (tiller extension)-joints. The ones I used are a three part design: The flexible piece, a mounting piece, and a cover. the flexible piece simply slides into the mounting piece and the cover goes over the top (see detail photo below).
To make the tiller buy two of these joints (I think they cost Euro 7.- each, in France) and an aluminium tube 39cm long with an inner diameter (13mm in my case to match the flexible joint outer diameter).
Drill a 1mm hole approximately 5 cm from one end into the tube (to let the air out when gluing the joints into the tube).
Scratch the inside of each end of the tube well to give it a good key for the epoxy.
Glue the two pieces into the tube with thick epoxy. IMPORTANT: Make sure the mounting pieces line up correctly i.e. both are horizontal!
Do one side first and stand it upside down till epoxy has set, then do the other side.
If the tube diameter is a little too large put a bit of tape around the joint between tube and plastic piece to prevent the epoxy from running out.
You should end up with a linkage approximately 420mm long (it can be +- 30mm or even more)
How to fit it: Screw one end to the tiller (see photo) approximately 400mm from the end (measured from the rudder end)
Then drill carefully the holes on the motor handle for the mounting piece. If you haven't got a handle, because you motor has remote controls, get and old handle from your friendly Yamaha dealer and fit the bottom part only (it's easy, I've done it, see photo).
Bolt the plastic mounting piece to it and slide your tiller-linkage into it.
Make sure you release the leaver on your motor which keeps it in a straight position.
Voila that's it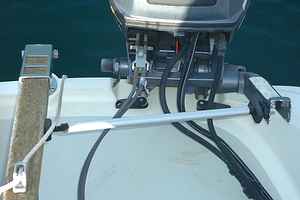 This photo shows the link connected to the outboard motor (Yamaha 9.9, 4 stroke)
Please note how I don't bother putting the little cover over the link on the motor side. It seems to be fitting so well; I never have had any problems with it moving.
Here is the little stick joint made of plastic.
Clearly visible are the three parts of the connection: the mounting, the joint bit which slides into the mounting and the cover.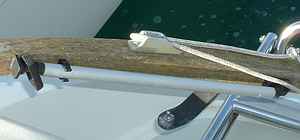 When under sails: The linkage is neatly on the tiller