DRAGONFLY Trimarans User Forum International Dragonfly Trimarans User Forum
OLD DRAGONFLY TRIMARANS USER FORUM 2001-2006


DF800 MOTOR

These are archived postings from the first Dragonfly User Forum from 2001-2006. Lots of useful information to be found here!
Here you will find all the information about the 800's Motor.
To jump straight to a category on this page click on any of the words listed below.
Re: (Staffan Ehde) DF800, Electric Trolling Motor ?
[from: Peter Knape, Netherlands, 22 Nov 2005]
Would like to get in touch with Staffan Ehde, Sweden.
In response to his message (21 June 2004, see below) on Electric Trolling Motor.
I also consider moving up to electric. I foresee several advantages: – Less weight at the outer end of the 800.
– Harbour in and out on battery accumulated Solar power
– Possibly a longer shaft, better thrust in waves…
– Instant starting
I would not be surpricesed if this is a logical step in the world of outboards. If it starts it is likely to start its evolution powering an 800.
I would like to get in touch, to share our findings.
My e-mail: P.Knape@Philips.com
---
Re: DF800 Outboard Motor …
[from: Kevin Kane, United States, 29 Jul 2005]
In response to Bill Miller asking advice on a outboard for the DF800, I have a Yamaha T8 4 stroke outboard. It is heavy, about 108 lbs, but very convenient with electric start and electric tilt! I want my crew, experienced or not, to be able to drop the motor and start it in the event of an emergency. A little modification to other "balast" postioning offsets the additional weight. The biggest problem was the motor mount. I replaced it with one similar to (or the same as) the one described by Michael Hucke in Jan 2005, obtained from Cabela's in the US, reinforcing the transom with 3/4 inch marine plywood both inside and outside the fiberglass.
---
Re: DF800 A Better Motor Bracket
[from: Nikolaus Rollwage, Germany, 21 Jan 2005]
Corrosion – On my DF800 (1998), Quorning has put plastic rings between steel screws and aluminium base of the motor bracket, and there's no corrosion at all.
Porthole – In my opinion unnecessary. I changed the motor bracket last winter without a porthole. One person in the locker, preferably a slim one, holds the nut, and the second person fixes from outside.
Inspection of the backpart of the motorholder is easy if you have a digital camera with flash. By the way, that's also a good way to inspect bilge, collision compartment etc.
---
A Better Motor Bracket
[from: Michael Hucke, Germany, 11 Jan 2005]
In response to Paul Erb's question (DF800 General 22 Dec 2004):
Dear Paul,
forget the original motor bracket, It will always fail maneuvering in itchy situations… It's weak. The one i built on my boat does an extremely good job and is strong enough to lift the motor _alone_. By the way: you will probably find the screws and base of the original motor bracket with heavy corrosion. Quorning did not isolate the different materials, aluminium backhold and screws. One guy from Quorning recommended installing a porthole either on the side of the motor holder which weakens the structure or the visible way from the cockpit. It worked fine from the cockpit with my boat. One really should have such a porthole to regularly check an maintain/clean the backpart of the motorholder.


Please click on any of the photos to see them enlarged
The bracket Micheal suggested can be found at www.compass24.de and looks like this and is suitable for motor up to 25hp and 55kg: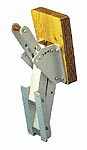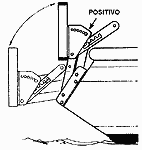 ---
Re: 8hp max for Outborder?
[from: Nikolaus Rollwage, Germany, 5 Nov 2004]
I think 8hp/2-stroke is the optimum, if you don't have to deal with strong current. Less than 8 hp may be not enough under certain conditions — the boat has a lot of windage. With full power und no waves, the 800SW Cruising makes 7-7,5 knots with 8hp/2-stroke.
8hp/4-stroke Outboards are much heavier (40-50 kgs) and need a strengthened outboard bracket, so do stronger 2-strokes.
In my opinion, the 800 is a boat for sailing, not motoring. Even with 1 Bft you can sail 2-4 knots to windward, being sometimes the only non-motoring boat around.
---
Electric Trolling Motor ?
[from: Staffan Ehde, Sweden, 21 Jun 2004]
Any experience with electric trolley engine on a Dragonfly 800?
Im truly sick and tyred of dragging around an outboard engine that does not want to come up when sailing. Got the idea of having an electric trolley engine like Minn Kota, may be a small gasoline power generator in the boat if power is needed.
Has anybody done it? Experience? Engine type etc?
---
Reply to: 8hp max for Outborder?
[from: Darryl Brathwaite, Puerto Rico, 8 Aug 2003]
I use a Yamaha 15hp 2-stroke on my DF25. It pushes the boat at 10 knots and is useful in offshore conditions i.e. heavy wind/current. I strengthened the outboard bracket with some diagonal struts to resist bending at full throttle. Motor only weighs 20 lbs (9kg) more than the next size down (6/8hp) and increases top speed by 4 knots.
---
8hp engine at a maximum ?
[from: Jan Olin, Sweden, 14 Jul 2003]
Quorning recommends 8hp engine at a maximum. What is the limitation? The outboard bracket? Are there any experiences of a more powerful engine? Any comments appreciated!
---
Which 4-stroke Outborder for the DF800
[from: Bill Miller, USA, 24 Feb 2003]
Please help in the selection of a 4-stoke motor.
Do you have favourite and why?
Thank you, Bill Miller, New Jersey, USA
Go to TOP of Page
---
Go to TOP of Page
---
Go to TOP of Page
---
Copyright © 2001 Bo Wetzel
All Trademarks and copyrights shown or mentioned on this web site are herewith acknowledged.